Cycling Eureka, CA to Eugene, OR [Week 16}
This week was our toughest since we got back to the US. The long days on the road, punishing headwinds, and aggressive traffic pushed us to the limit a few times, but we made it safe to Eugene for a few well earned days off.
We also made the turn east this week, beginning the long trek across the country towards our finish line in Maine! After a month cycling on the Pacific, we are sad to say farewell to beach camping and sunsets, but excited for what's up next.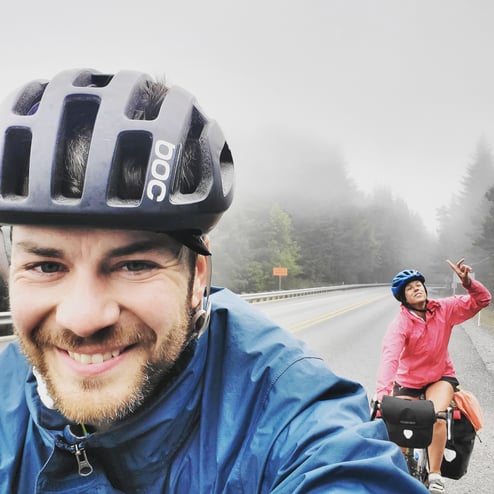 Distance: 363 Miles
Elevation Gain: 23,266 Feet
Campgrounds:
Prairie Creek Redwood State Park: This is our recommended place to stay in the park. Hiker biker is $5/pp and there are a ton of good sites to choose from. We chose a flat grove under a mossy tree. Showers are coin op and semi-hot. The best part is that there are a ton of wild elk in the meadow that you can check out while cooking dinner. Bear boxes are provided since you are in bear and mountain lion country here :)

Harris State Park: Hiker biker is $8 per person. The site is huge with room for 7 or so others. Showers are free and hot! Welcome to Oregon. It's best to grab food in town before if you need it since there aren't any stores nearby.

Bullards Beach State Park: Hiker biker is $5/pp. There are quite a few spots to choose from here, though some are a little cramped. Lockers with USB charging stations are available, and showers are free and hot. There isn't a store after passing through Bandon, so stock up before you get to camp.
Jessie Honeyman Memorial State Park: Has hiker biker at $8/pp. Sites are off to the side of the entrance and they are all pretty nice. One thing about this is that it doesn't have the electric and storage lockers other or sites have had in Oregon. Showers are free, and apparently there are commonly others to hang with when camping here.
The Route Deets:

Leaving Eureka, we stayed on the 101 into Arcata. There is an alternative way to bike closer to the coast (between the bay and ocean), but it seemed a bit more complicated. In Arcata, we visited Revolution Bikes to get new tubes and a kickstand. These guys were awesome and we spent about an hour telling them all about their adventures. Taking their advice, we found our way onto the Hammond Bike Trail, avoiding the busy 101 all the way through Patrick's Point. This is a great ride, and while there are a lot of directions to stay on it, it's well worth it.
Rejoining the 101, the highway went from 4 lanes with a wide shoulder to 2 lanes with no shoulder. Super sketchy. Luckily it was not too busy, but I could see this being dicey when traffic is heavier.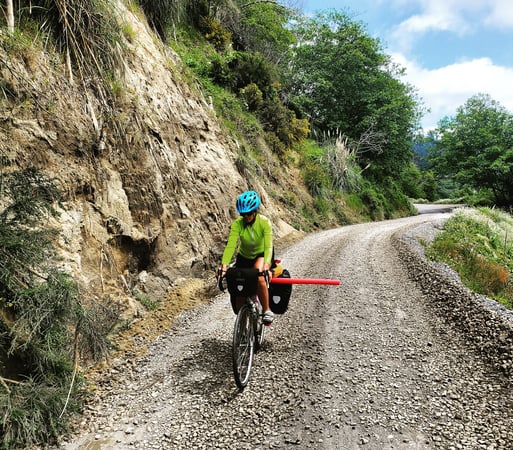 Upon reaching Redwood State and National Park, we took the exit for Prairie Creek Campground. It's hard to miss the exit since the bike route sign will also point you this way. The road from here is gorgeous. Similar to the Avenue of the Giants, we wound our way through the towering redwood forest, stopping often to marvel at the natural beauty. The biggest difference from the forests further south was that this was truly a rain forest. Where the Avenue of the Giants had towering trees and a clean ground layer that you could easily walk through, this one was densely packed with moss, vines, and smaller trees, making it feel wild and mysterious.
At Prairie Creek, we camped with a family cycling with their two young kids. These Australians were amazing and we had a good time talking about our trips together and learning about where they were going next.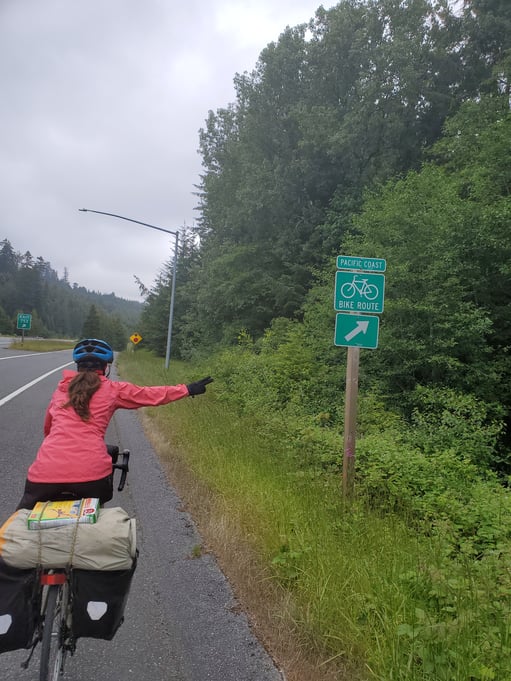 After a climb, we unfortunately needed to get back on the 101 near Kalmouth. This was not our favorite stretch: traffic was heavy and the shoulder would disappear and reappear every few miles. About 10 miles in, we started a long climb up into the forest. Drivers and truckers (especially logging trucks) gave us practically no space as we worked our way up. We did not feel very safe as these guys whizzed past us.
After descending the hill, we stopped to take a break in Crescent City, CA. We followed bike route signs around town and off the 101 for about 10 miles, rejoining the highway right before the border with Oregon.
Once we crossed the state line, the shoulder opened up quite a bit, making us feel much more comfortable. The downside was that this border crossing also seemed to trigger an increase in the wind for us.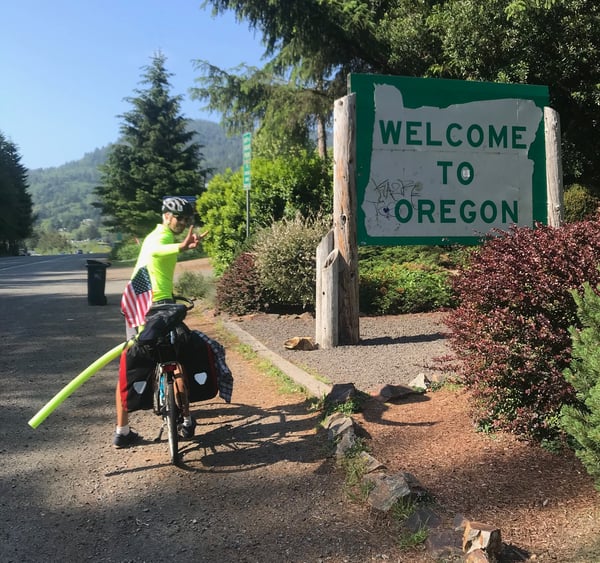 We had a day of punishing winds as we climbed up and into Gold Beach, but the views of the rocky coastline helped distract us from this. After leaving the beach, traffic really started to pick up. Lots of big trucks sped past, some of them going so far as to stop behind us and blow their horns in anger. Making matters worse, the shoulder was only wide enough to fit our tires in. These conditions, coupled with the ongoing wind, was demoralizing for us as we did all we could to push on.
We decided the best bet moving forward would be to wake up around 5AM each day to beat the worst of the wind and traffic. We stopped in Port Orcid for a coffee break, and then made our way to camp at Bullard's Bay.
The next day was the most difficult of the week. We woke up early and found our way to the Seven Devils Road. This was awesome, as it had little traffic and was a gorgeous hilly ride through thick logging forests. We stayed on this all the way to Coos Bay, where we got back onto the 101.
This section of the 101 fat out sucked. The wind prevented us from moving any faster than "snail's pace," traffic was primarily comprised of truckers driving fast and playing the game "let's see how close we can get to a biker before we make them fall," and the shoulder all but disappeared for us. I won't comment much more than to say that this day disappointment me. Oregon drivers have been far worse than in California. 4X4's often have passengers that flip us off, we get honked at angrily all the time when we are trying our best to hug the loose gravel off the road, and I even had one truck that (I believe at least) purposely tried to hit me with his side mirror while going downhill. Unfortunately, this all stirs up painful memories of what we experience on the road in Argentina. At this point, we were just excited to leave the coast and make the turn east.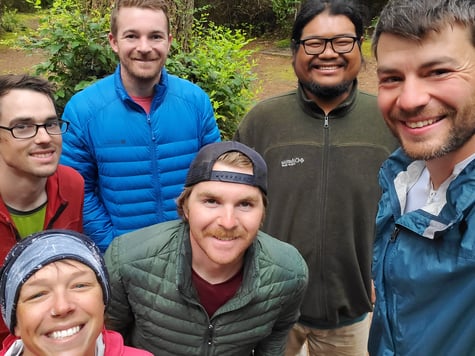 The saving grace of this day was that our camping experience at Jessie M Honeyman Memorial State Park was a ton of fun. We met three other cyclists here and had a blast around a fire and talking about our respective trips.
The last day of the week marked a huge milestone for us: the big turn east. Suzie wrote a post with more detail on this, which you can read here: Leaving California.
The road from Florence to Eugene was amazing. As always, it proved to be a much longer day than we expected (90ish miles versus 60ish), but that didn't get us down. Out of Florence, we took the 126 along the Siuslaw River, which cut through the mountains on either side. While this is a main thoroughfare, it wasn't too busy and we had a nice shoulder to stay in all the way to Mapleton.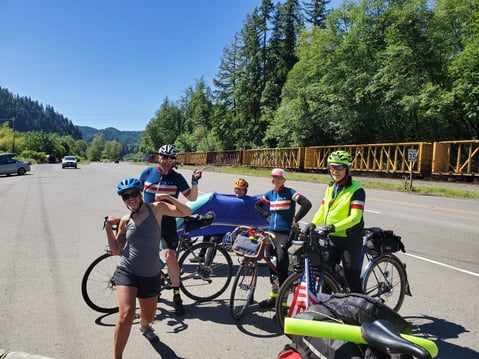 In Mapleton, we met a group of cyclists that we completing a 600 KM ride… in 2 days. Insane!!! These bad-asses recommended we take the 36 to Eugene. While a longer route, it had less traffic and we would avoid the tunnel near the top of the mountain. We took this advice, which we did not regret.
The 36 was a great road for us. We bent along with the pavement up into the mountains, ending with a medium climb to the top of Low's Pass. The waterfalls and pools on the side of the road seem like a cool place to hang out for college kids and families.
We descended the mountain, staying on the 36 until it ended at the 99. From there, we followed the highway, which thankfully had a wide and flat shoulder, all the way into Eugene.
For more stories and recaps from our adventures in America, check out our US Cycling page here.
Topics: Camping, Maps and Routes, USA