Cycling San Diego to San Simeon, CA [Weeks 12- 13]
We are back in the US of A, and could not be happier to be biking here!! It's been a few weeks since we updated our route, mainly due to the fact that we've just been enjoying life on the road and at camp the past few weeks. Life has definitely improved as the food, company, camping options, roadways, and sights have done the same. It is just so freaking good to be in America.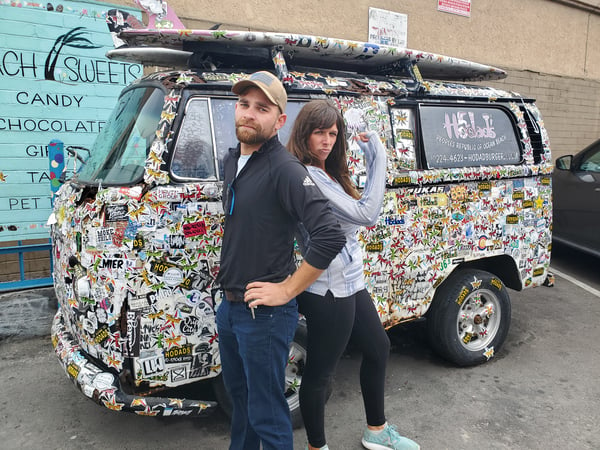 We flew from Buenos Aires to LA and got picked up by Suzie's parents, who drove us south to San Diego for her sister Charla's wedding. We had a fun filled two weeks with family and friends in the region prior to taking off on our great American tour.
The week and a half off also gave us plenty of time to contemplate our plans for the rest of our journey. We originally planned to head due east towards the Grand Canyon and the high desert of Arizona before crossing the Rockies in Colorado and then towards the plains of Kansas. The plan seemed like the right call, until we learned that it was snowing in Arizona and likely would be frigid as we crossed the mountains. On the fly, we changed our whole route up (again) and decided to ride the PCH highway along the California and Oregon coast before cutting east in Portland, Oregon. Our new description to people on the road is that we are biking to Portland, Oregon then Portland, Maine. We usually get a few awestruck stares before they beg for more detail.
Distance: 426 Miles
Elevation Gain: 16,279 feet
Campgrounds
We are going to start adding in a few tips based on our campground experience as we ride along the PCH. Most of what we have to say will be most helpful to cyclists, as we mainly stay in designated "hiker biker" spots. This is an INCREDIBLE amenity offered at California State Parks and Beaches where people who only hike or bike in can camp at a discounted rate of $5-$10. This is HUGE for us being on a budget and is yet another reason I am being won over by this amazing state.
San Elijo: Our first hiker biker spot was a nice one. Despite being right by the highway, it wasn't too loud and we made friends with all our neighbors, curious about our travels. There is a town with lots of places to grab food and snacks right across the highway, so no need to stock up before getting in. The showers are token operated and hot, and the facilities are all around pretty nice. The best part about this campground is that it's right by the beach, which we walked down to and watched the sunset.
Crystal Cove: Though they do not offer the no-reservation-needed, hiker-biker spot, we instead were offered a "primitive campsite." I would place this low… very low… the lowest on the totem pole for us so far. When directed to the site, the gentlemen at the front told us it was 3 miles up a low gradient road to the top of a hill. I would be interested to know what they considered a high gradient, as we spent 2 hours pushing our bikes up mountain bike roads on the side of a freaking mountain. In fact, to get to this spot, we actually had to summit a mountain. By the time we reached the top with the sun going down, we were sweaty, dead tired after hauling our bikes up the peak, and pretty discouraged. Still… it is a beautiful remote spot if you'd hiked up there for the night. The showers are at the bottom of the hill at the normal paid camping sites and are token operated. There is a Trader Joes about a mile up the road if you need supplies.
Emma Woods State Beach: This place looked closed, or neglected, as the grassy area to set up camp looked was a field of tall, ugly weeds. There was a random shopping cart in the big empty field and only one bathroom unlocked for use. We were told that there had been some kind of natural disaster recently, like a mudslide or something similar, though it looked more like Chernobyl than anything else. I would not recommend staying here unless you like the idea of potentially fending off a murder late at night. Seemed in disrepair and sketchy to us. They had hiker biker though so… at least it's cheap!
Faria State Beach: This site, mainly filled with RV-ers, was right on the beach and beautiful. There is no hiker biker option, but a family let us camp with them for free in their designated spot and even fed us… Shout out to Cheryl! Your deluxe Mac and Cheese was de-lish!_. Coin operated hot showers, flat ground, good running water. The only downside is that there isn't a store nearby, so stock up beforehand.
Refugio State Park: There are three camping areas, all within 10 miles of each other: Refugio, Gaviota, and El Capitan. All have hiker biker options. From our research and experience, Refugio is where you want to be. The hiker biker spot is DIRECTLY on the ocean, has tree cover, soft and flat ground, and is just the best. Showers are coin operated and hot (if you need any coins in the park, talk to the camp host on the other side of the grounds. If you don't stock up on food beforehand, there is a market and deli on the frontage road about 2-3 miles south of the park. Not sure what time that opens or closes, so your best bet is to bike in prepped.
Hearst San Simeon State Park: There is a hiker biker option here: in sites 120-121. The site is right by the highway, but it wasn't too loud at night. The grass is soft and flat, though it was a bit windy when we stayed here. Showers are coin operated and hot. There isn't a lot around here, so stock up before you get in. We got groceries in the cute town of Cambria which worked out.
The Route Deets:
From the bike shop in Pacific Beach, San Diego, we picked up a bike path along the 101 north and on towards Oceanside. In La Jolla, we detoured a bit to climb up Mount Soledad. Despite the extra effort in the morning, it was worth it for the view. Traffic was slightly terrifying as we navigated the road up to Camp Pendleton, where it turned from slightly to just plain scary. As we were not allowed on base since it was a weekend (during the weekday you can stop by the Visitor Center and pick up a civilian pass to bike through), we needed to hop on highway 5 (a 5 lane freeway out of Mad Max: Fury Road) for 10 miles. Once through that gauntlet, we were able to ride semi-on-base on the coastline for a beautiful 10 or so miles before reaching San Clemente. This section was marked by no cars (since it was a bike path) and a gorgeous rolling coastline into town.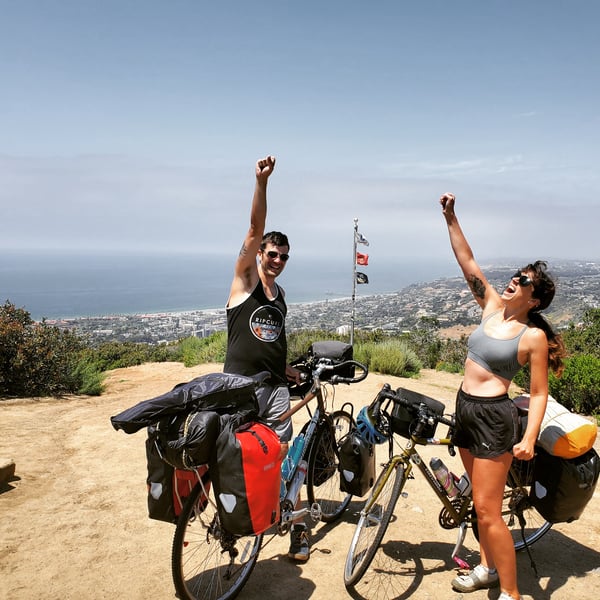 In San Clemente, we followed the "bike route" signs through winding neighborhood streets and got popped back out on the 101. Here a friendly driver recommended an alternative bike path north. After thanking him, he exclaimed, "people helping people, man. It's a contact sport.. You gotta get in to play." I love Californians more than I can explain in words. We followed this route into Dana Point and stayed on the water past the marina. Our biggest gaff here was staying on the coast till the very end, as we then needed to pedal up a super steep hill before reaching an overlook point.
Eventually, we had to rejoin the 101, which had a nice wide shoulder until Laguna Beach. In town, we did not follow the "bike route" signs since they went up a steep hill… as in, 18% grade, unable to even push a bike up steep. While we saved on climbing effort, the shoulder dissipated entirely and 4 lane traffic was not friendly to us as we road through the bustling town.
Unintentionally, we went on a mountain biking excursion into the hills of Crystal Cove State Park. While going up was annoying and painful with our road bikes, heading down the steep slopes was an absolute nightmare. We luckily escaped this unscathed.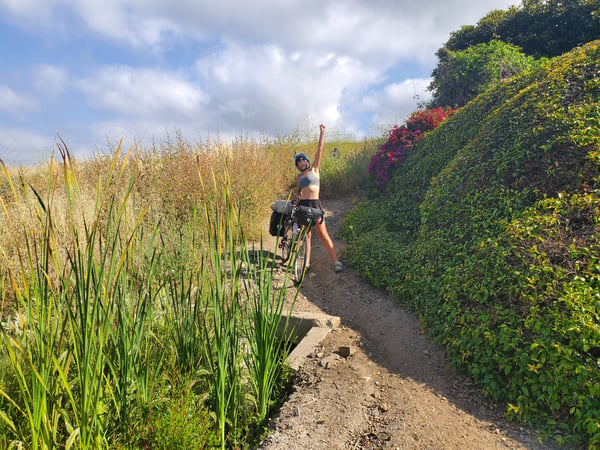 The next day, we stayed on the 1 and ended up hooking up with bike paths through Newport, Huntington, Sunset, and Long Beach. These bike lanes were comfortable and well-marked, as they were directly on the ocean and pretty empty as we passed through. The only downside was that we were heading into a strong wind. In Long Beach, LA started to really feel like LA, and we had to leave the beach paths once we reached the port. We zipped around the outlying neighborhoods of LA, staying south of the busiest part of the city and north of Rolling Hills. This took a lot of looking at maps to find the best bike lanes, but we made it work without too much hassle.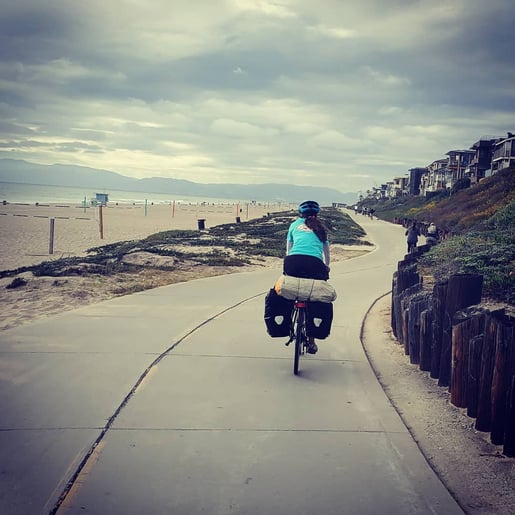 On the other side of the Port, we linked back up with the bike path in Redondo Beach and bikes into Manhattan Beach. Here, we were stopped by Tyler and Artie who wanted to know what we were doing. Once we got to talking, we learned that they, too, had taken long cycling trips and they offered us a few Coors Light while we commiserated on the boardwalk for an hour. This was a great "welcome to LA" part for us.
We then stayed with the beach lanes through Venice Beach and into Santa Monica, where we took a day off to see the sights and make new friends.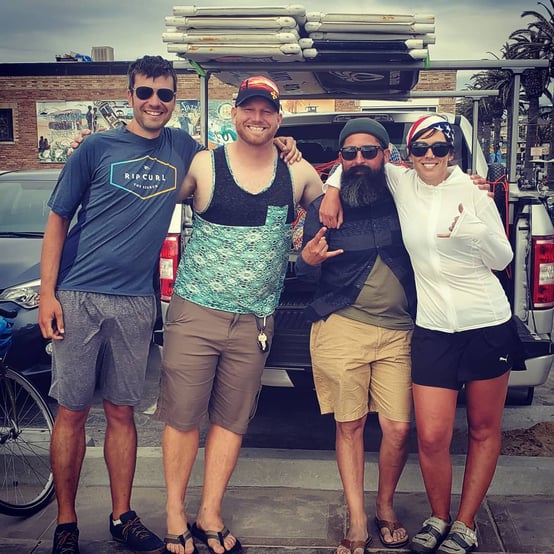 From LA, we remained on the 1 out of town and through Malibu. I had heard this section was terrifying along the cliffs, but it was not bad at all. Most of the road had a descent shoulder, and traffic was supportive of us being there. Eventually, towns faded away and we were back on the open coast with nothing but beaches and cliffs to occupy our attention. This was a gorgeous part of the ride near Thornhill State Beach.
South of Oxnard, we had to follow bike route signs that diverted us off the 1 and into the city, as bikes are no longer allowed on the highway. We cycled our way across wide open farmland and watched Navy Planes fly around the nearby base. Once we got through the city, we rejoined the 1 briefly and then made for the coastal route by the marina. Traffic was heavy, but we didn't have a lot of trouble making our way there.
South of Ventura, we were happy to find a new bike path in place, which we hugged along the coast, past the surfers, and around the famous town. We just kept following the bike route signs from here and through Rincon beach. The bike route was gorgeous and super easy to follow through this section of the ride.
We rejoined the 1 near Santa Barbara and followed bike paths north and then down into Isla Vista. Here, we spent time for Suzie to relive her college days and did our best to navigate the insanely busy bike paths on campus. We were then forced to link up with the 101 for a few miles of true highway biking, but thankfully there was a wider shoulder to enjoy before we hopped onto a side road.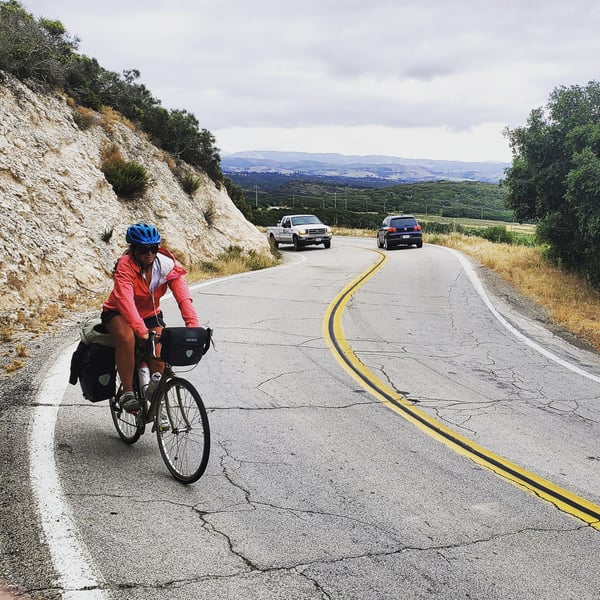 The 101/1 then took us north through the canyons below Lompoc. There is a long uphill before reaching the city, but thankfully a good shoulder to push up in. In town, we got advice from a bike shop owner to avoid the 1 since it had 6 climbs north of town. Instead we hopped onto the Harris Grade road and up a switchback climb. There was no shoulder and a bit of traffic to manage on this part, but it wasn't too bad. Also, he let us know that Lompoc is notorious for bike thievery, so don't leave your bike or bags-on-bike out of your sight!
We continued back on the 1 through the farms of Guadalupe. This section was super sketchy, as we had no shoulder and truck traffic to contend with on the narrow, 50 mile an hour road. Making it safe through that section, we made our way to Pismo Beach, where we spent a day sampling the famous clam chowda at Splash Cafe (it's amazing) and walking around the boardwalk and pier areas.
After Pismo we continued our ride north, passing San Luis Obispo and riding through the unique Morro Bay; its notable monument its a giant boulder that looks like it just fell out of the sky and landed in the bay, sitting randomly but beautifully off the coast. Though the shoulder was very wide, the road wasn't particularly scenic. Luckily along the route we met Derek, a local government employee and bike enthusiast who guided us through a more scenic road that jutted randomly off the 1 and took us a shorter way up and over a windy mountain. He said goodbye after dropping us at a lunch spot in the city of Morro Bay. The remainder of the day was spent reaching, San Simeon, and as we traveled north the more scenic the road became--a preview of Los Padres National Forest up ahead.
Check out where we are off to next here: Biking Across America.
Topics: Camping, Maps and Routes, USA