Call me a nerd, but it's hard for me to fully part with "work mode" when analyzing this adventure I have been on with Suzie over the past five months. I know that the idea of a sabbatical is to break away from your career, but the truth is that I love a lot of what I was doing at work on a daily basis. One of these functions was to analyze the performance of myself and my team, and as we recently crossed the 5,000 mile point of our cycle tour, it's high time to do a performance review of myself to make sure I'm accomplishing the goals I set out to.
[Snap, Snap, Snap] Please try not to fall asleep as I work through this more serious post. I'll try to only use one "%" sign per paragraph and refrain from including any charts or tables. It's kind of an odd topic to write about, but it's a useful exercise as I think about wrapping up the trip in a few months.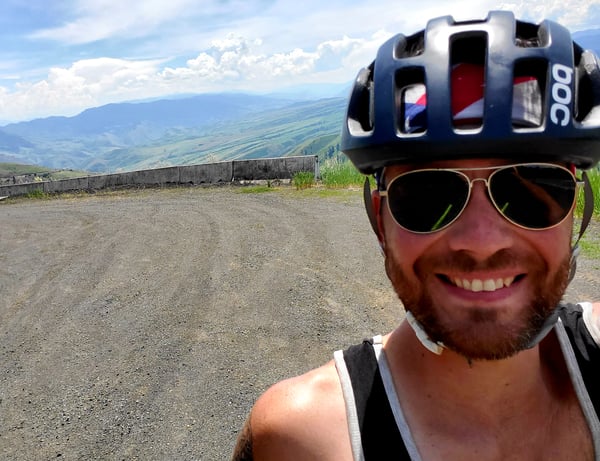 When starting our journey, I wrote about burning down our comfortable lives in order to shake things up and experiment with what to do next. The main tenet of this post was that I felt a "call to adventure" that I wanted to vigorously pursue in an effort to learn more about myself.
I boiled down this broad goal into a few sub goals to analyze:
Break out of my comfort zone and try something wildly new and adventurous

Ponder the future and where to end up next

Read more, not solely focused on business and leadership related topics

Become a prolific writer

Teach others how to conduct their own type of adventure

Complete the physical feat of cycling over 8,000 miles
Since I don't really have a boss to evaluate these (minus Suzie… who isn't the boss of me. Unless... unless of course she says she is, in which case... well then yea, I do have a boss come to think of it), I'd love to hear from anyone if you have input in the comments at the end. In the meantime, I am going to make an effort to grade myself on an A to F scale here where F is the best and A is the worst. Kidding… but wouldn't that help up my grade for doing something adventurous?
Break out of my comfort zone and try something wildly new and adventurous -> Grade: B
I feel like I've done fair with this one. Cycling through five South American countries was definitely the most adventurous part of the trip. There, we planned the entire route from scratch, guessing most of the time on roads to take and where we might spend each night camping. These moments were way outside my comfort zone, especially when sleeping in the middle of the desert after over 100 miles without seeing a store or source of water.
However, we haven't done a whole lot of "wild/stealth camping" during this trip. Most of our nights have been spent in actual campgrounds, something I'm very familiar with and isn't all that "adventurous" comparatively. We have spent more nights in hotels (1/5 nights on average) than I expected. This takes away from the "into the wild" feeling I was going for, yet.. sometimes a guy just wants to catch up on Netflix or check out a new series on HBO.
Since returning to the US, services and road recommendations have been abundant when talking to people and researching regions online. This takes away from the "build it yourself" approach we took in South America, leading to a much more comfortable and predictable tour.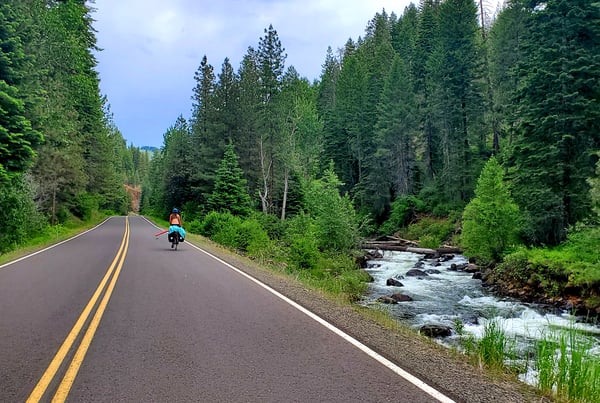 Ponder the future and where to end up next -> Grade: A
I think about this one constantly and it's been the main topic of conversation on the road with Suze. South America was a good brainstorming place for thinking about where we want to live. Here, we officially decided that we want to remain in the US and we made the call that the West is where we want to be next. We thought about New Orleans first as our go to city, but after careful consideration, we are swapping the amazing cuisine and wild and crazy atmosphere of NOLA with the mountains and outdoor fun of the Rockies.
In terms of a career, I'm happy to report that I feel confident in continuing on my current path working in customer success. While marketing might also be an option if the right opportunity opens up, I have taken a ton of time to reflect on how much I enjoy helping people and building things. I actually miss my time working in a customer service leadership position, which says a lot in and of itself. It's a natural fit for me, I'm skilled in this area, and I am truly passionate about the function of customer service in business.
Read more, not solely focused on business and leadership -> A
I'm kicking butt with this one. Since starting our trip, I have read 20 books. Having the time to read/listen and ponder these books has opened my mind up to new ideas and branched out my learning path beyond the historic, political, and business reading I previously focused on.
Here are all the books I have read, in case you are interested:
| | | | |
| --- | --- | --- | --- |
| Tai- Pan* | Alexander Hamilton | The Art of War | The Disappearing Spoon |
| Island of the Lost | American Spirit | The American Nations* | The War for Spanish Succession |
| Meditations of Marcus Aurelius* | The Plantagenets | Salt to the Sea | A Column of Fire |
| Origin | Astrophysics for People in a Hurry | Trapped Under the Sea | The Billion Dollar Spy* |
| Mornings on Horseback | A Gentleman in Moscow* | Rabid | Grant |
My top recommendations are starred for your viewing pleasure. From this point forward, I am going to be more deliberate in my reading habits and read a business, science, and historical fiction book each month.
Experiment with different styles and become a prolific writer -> B
I wrote 41 articles since starting to plan for this adventure in December 2018. I set a goal to post at least twice per week, and I have hit this goal consistently. More importantly, I have truly enjoyed this, especially posts that are based more on reflections versus reviewing the route we are taking. I look forward to writing these types of posts each week. I will admit that all the "Route Recap" posts are a bit of a hassle. The goal of these is to help other cycle tourists and provide recommendations based on what worked well for us. However, not a lot of cycle tourists appear to be visiting our site and I am sure anyone not planning a trip finds these to be a bit dull.
My next goal is going to be to write a semi-fictitious book, loosely based on our journey. This has a long way to go, but after being asked if I would do this from a few people we met on the road, I will pull the trigger at some point in the next two months.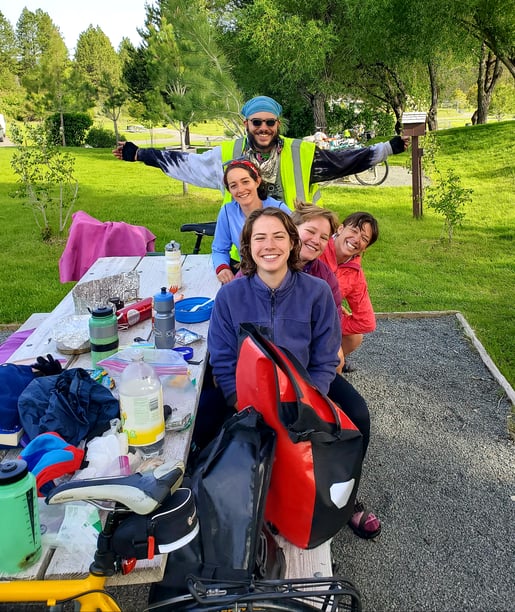 Teach others how to conduct their own type of adventure -> C
I've done well sharing info on our route for other cyclists to follow along. I use a few different applications to help with this (Google Maps, iOvelander, Map My Ride) in an effort to meet these people where they are. I also built a "How To Plan a Cycle Tour" pillar page on our website for people to use as a resource.
That said, I feel as though I am failing in this regard. Traffic to the By2Pedals website in June was sitting at 270 Sessions (up from 119 in May), which is painfully low. While it's nice to see 68% of this traffic coming from new visitors to the site and that we have organic growth, this is MUCH lower than I expected at this point of the trip.
Suzie and I are making a deliberate push to increase this in July and August. We are going to try writing more interesting posts and better promote our brand on the road and via social media.
Complete the physical feat of cycling over 8,000 miles -> C
We are over 5,000 miles in! It's weird to get a C in this, but I feel as though I can't possibly go higher since we are only 62% of the way to the finish line in Maine. To be fair to us, we did add the entire Pacific Coast and a stretch to Denver, Colorado to our trip, which added 2,000 miles to our overall plan. We are making good progress and are ready to spend the next three weeks tackling the Rocky Mountains! Keep an eye on our progress here.
Topics: Musings From The Road, USA, US Stories