Route Recap: Cycling From Iguazu Falls to Posadas, Argentina [Week 8]
We finally reached Iguazu Falls this week! A few weeks ago, we almost threw in the towel in trying to make it to this far corner of Argentina, but we would have been fools to miss out on this natural wonder in the jungle. It's by far the coolest thing I have ever seen, and I once saw the guy from the Jordan's Furniture commercials walking in downtown Boston, so... that's saying something.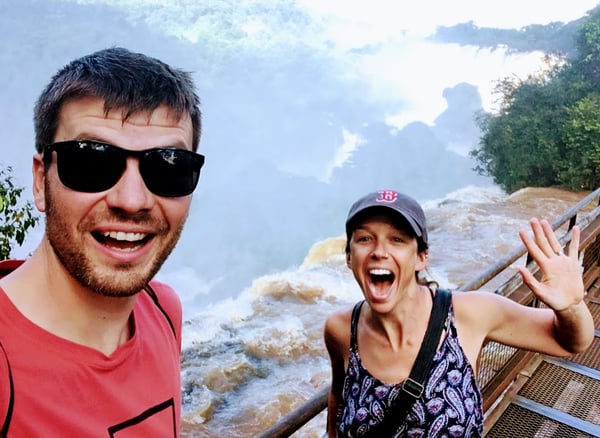 After four days exploring the falls and national park, we were back on the road to travel back to Posadas. Similar to how Paraguay was on the other side of the Parana River, the Route 12 was marked by repetitive hills across a beautifully forested landscape. Unfortunately, the drivers were (as we have seen in other places in Argentina) not as accommodating to us and provided little space while whizzing by. Safety became a real concern when we lost our shoulder four days in, and to avoid ending up as hood ornaments on a logging truck, we made the call to hop a bus and skip the last few days battling the road.
For these "Route Recap" posts, from now on, we are going to be sticking to more nitty gritty details of the roads and have less commentary on the people we meet and the thoughts we have while traveling. We'll keep writing about those things separately, while route recaps will be best for those interested in the more "cycle-toury" details.
Details
Distance: 124 miles
Elevation Gain: 8,745 ft
Max Elevation: 882 ft
Route Details
The region of Misiones Argentina is known for its natural wonders and Jesuit influence, so we were excited to see interesting sights on our way back towards Posadas after visiting Iguazu. Upon leaving the city of Puerto Iguazu, we tried to get cute and avoid the busy route 12 after seeing all the traffic on buses while visiting the park. We took back-roads towards the river, which were all unpaved with loose rocks, as we wound uphill for about an hour. While tough, we got to see a small waterfall off the side of the road and it was nice being alone traveling the countryside. Our happiness was short lived though, as after about ten miles, the road turned into a military access road. Despite crystal clear warnings that even a Balrog would have been like, "yea I probably can't pass," we pressed on for a short bit before finally caving in and turning around. A few minutes later, soldiers passing in a HUMV confirmed we could not use the road and had to turn back.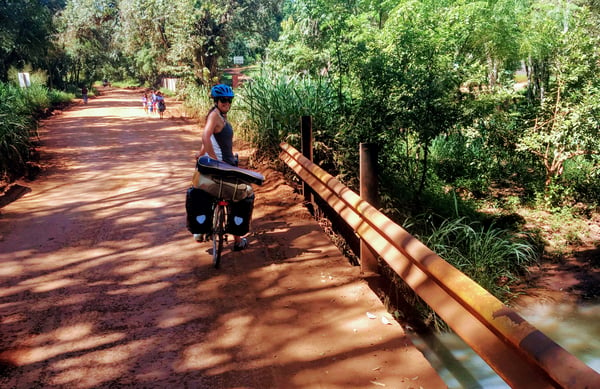 It took an hour and a half to press back down the road into town. Despite feeling a bit hoodwinked by our maps, we have vowed to no longer feel rushed anywhere, so we enjoyed this time away from traffic and in the jungle before joining up with the 12.

The first ten kilometers on the route 12 are super stressful. There is no shoulder it's the only way tour buses get to Iguazu Falls so it's very busy. Thankfully, once the road turns from the falls route a shoulder appeared and stayed with us for two days.

The road is nice but very hilly, making progress slow going. Every down is succeeded by a long up, and this continues for the length of the 12 for this section. Due to the slow start to the day, we only made it to Wanda where we camped at Salto Bonita campground.
At first glance, the river and waterfall next to the site looked perfect for us, but don't let this fool you. There was broken glass that littered seemingly every inch of the ground. This is not overstaying things: every step I took I crunched glass under my feet and at night, it was like looking at the northern lights when shining a light down. The bathrooms were reminiscent of a Laotian prison, which I have seen so I am, again, not overstaying things. We found the best spot to lay our tent, but were overall uncomfortable here. If you like waking up and slicing your feet on the ground while stumbling to a bathroom that might also be a murder den... this is the campsite for you my friend. Otherwise, I'd recommend pedaling on.

The next day was pretty similar to what we experienced the previous one. The constant ups and downs of the road continued, but we were happy to get the tough workout in. The main difference today was with the traffic. Logging trucks seemed to purposely move over the white lines of the shoulder when approaching us, frustrating us a few times and dampening our spirits slightly.

That night, we stayed at the best campsite we have had in all of Argentina: the Los Caseritos Ecotourism. We were the only ones at the entire site and it was well maintained, picturesque spot on a gorgeous river. The man who lived there was super nice to us and all to eager to have company for the evening. He gave us mate and introduced us to his dog, rocket, and 2 horses!! He also lamented that the drivers in this part of the country (and the road in general) were extremely dangerous and warned us to be very careful. He hinted that some of the drivers might have malicious intentions to purposely hit us. This wasn't much of a surprise, but it did validate that it wasn't just us that felt uneasy biking on the road. A few days later, we also got a warning on Instagram that we were "brave" to take on this section by bike.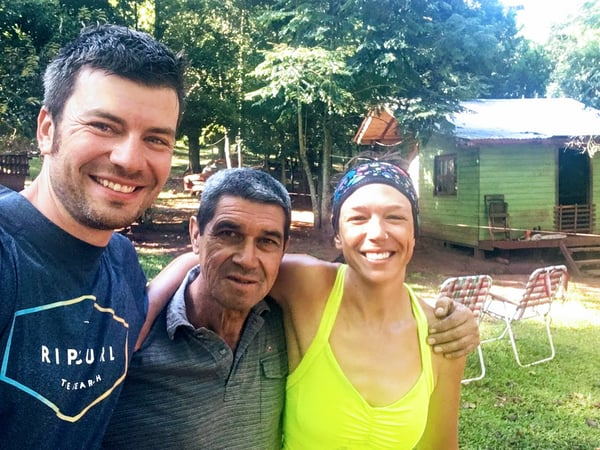 The Route 12 became a death trap on the third day. While we retained the shoulder for the first 25 kilometers and cars started giving us more space, we lost our small strip of salvation after passing through Barrio Obrero. It's a shame too because the scenery was beautiful as we wound up and around the mountains.

After trying to stay positive, I broke down after almost getting clipped by a tanker and made the call that it was only a matter of time before this two lane, high traffic road, caught up to us. We stopped in Puerto Rico and snagged a bus to take us the rest of the route to Posadas.
I dissuade anyone from cycling the route 12 from Puerto Iguazú to Posadas. The lack of a shoulder for more than half the road combined with the busy, non-biker-friendly traffic is just not worth it. I'd instead stick to the Paraguay side of the Paraná River if you are heading south.
While the bus cut out two to three days of riding, we were happy to keep our sanity and start planning the (seemingly) biker friendly roads in Uruguay. Next, we'll take another bus from Posadas to the border and begin the last leg of our South America trip :)

For other recaps of cycling adventures in South America and what we are up to next, check out our main page here.
Topics: Maps and Routes, Argentina, Challenges on the Road