Cycling San Simeon to San Francisco [Week 14]
The week of Big Sur and SF was something Suzie and I looked forward to as part of the PCH ride, and it did not disappoint. This was a week of epic scenery, hilly roads, relentless wind, new, and old friends. I'd never really known what the region of Big Sur was. I suppose I knew it was a park on the coast, but what I found there paled any expectations for the beauty that I found. If you have never been there before, I highly recommend spending some time here.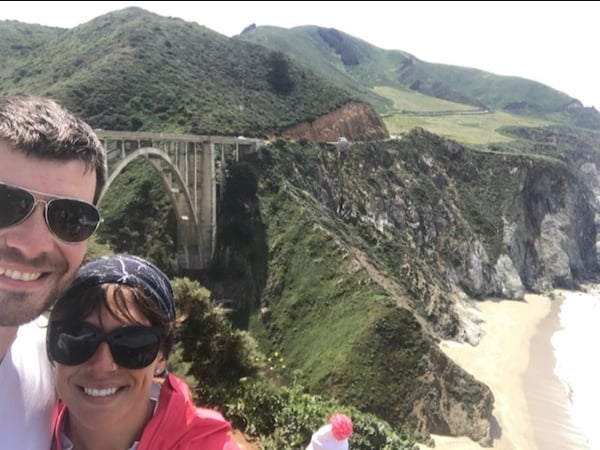 We also had the opportunity to make new friends and visit old ones as we rode up and into San Francisco. Each night at camp, we met another set of amazing people who were eager to put us up in their nearby homes if we needed a place to stay for a night (and more importantly... do laundry). Thanks so much to Bill, Caroline, Buck, Patty, Terry, Nick, Kim, and Jenn. Also MASSIVE shout-out to our friends Pete and Colby, who hosted us for a fun and memorable weekend in SF. Hopefully be back real soon!
Distance: 259 Miles
Elevation Gain: 18,696 feet
Campgrounds
Plasket Campground: This campground does offer hiker/biker for only $5/pp. It is right in the heart of Big Sur and across the road from the beautiful Jade Point. The biggest downside here is that there is no shower and the bathrooms do not have any running water. If you are okay roughing it for a night, I'd say go for this one, but if you need the shower there is another campground only a few miles north that has showers.
Pfeiffer Big Sur Campground: This is a "must visit" campground, whether you are biking in or not. The grounds sit among towering redwood trees and at the base of a mountain. I wish we spent more time here and explored hiking a bit more. The hiker biker spots ($5/pp) are beautiful and right next to a hot, token operated, shower. Though it was a weekday in May, we had 2 other cyclists join us here for the evening.
Sunset State Beach: $10 hiker biker per person. The actual hiker biker site was overgrown and a little gross, but since the campground was not that full we just took a different spot. Showers are coin op and very hot. There is a nice beach on the other side of the campground, so if you have time to play with, it would be a nice spot for an off day.
The Route Deets:
Leaving San Simeon, we stayed on Route 1, where we would remain up through Santa Cruz. The road bent along the coast as we approached the magnificent Hearst Castle on the ridge-line beside us. We thought about taking time to visit this landmark, but decided instead to press on and admire it from a distance. Part of this decisions was picturing us in this setting while wearing dirt stained clothes and socks that hadn't been washed in two days. There is a good chance we wouldn't even be let in :(
Around the corner, we stopped at an Elephant Seal vista point to watch these huge creatures throw sand at themselves on the beach. This would be the life: these monsters just sit on the beach all day, groan every once in a while, throw sand all over themselves... and straight up chill. Sure, sure, there is a season where the males violently battle on the shores for dominance... but besides that, it looks like a great life.
The shoulder dissipated quickly as we marched on. Drivers were mindful of us on the road, but I imagine this would be a hairy ride if it were a weekend in high season. Rounding a corner, we got our first glimpse of Big Sur in front of us. Immediately, I knew this was going to be a breathtaking, but tough ride. The road constantly rises and falls between the steep cliffs of the Pacific and the towering mountains to the East.
I wrote a bit more about the winds and road that we cycled in Big Sur, which you can find here.
We took a break after entering the park in the small hamlet of Ragged Point. They were having a BBQ outside and a country band was playing to a packed patio, so we were happy to spend an hour eating chili and talking to people who saw us on the road earlier in the day. It's a blast telling people about our trip and watching their reaction when we let them know where we started. Most people, I expect, assume we are on a 2-3 week tour and started in Santa Barbara or something like that. When answering questions that we started in Patagonia... jaws often hit the floor and open up a whole new round of questions. I love answering these and think its awesome when people are so curious and supportive for our adventures.
Taking the advise of new friends we made at Plaskett, we took a detour up Naciamento road. While this only added to our long day of climbing, it was well worth the effort for the view we got as we made our way up the long switchbacks.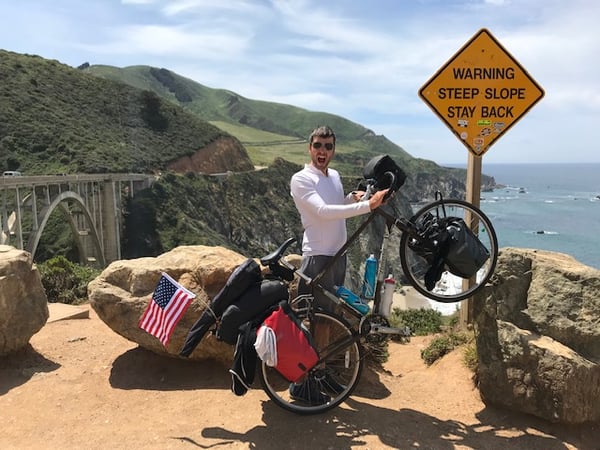 The rest of Big Sur was marked by frequent stops at viewpoints, including McWay Falls and the famous Bixby Creek bridge. One spot I highly recommend is Big Sur Deli and Bakery outside of Pfeiffer State Park. We stopped for a beer and sandwiches, chatted with the locals for a bit, and just had an all around good time here. Don't miss out on this gem!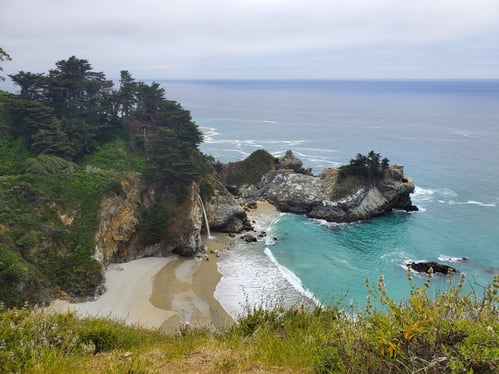 After leaving the park, we biked through the cute town of Carmel and then into Monterrey. Traffic was brutal on a three lane road in town, and there was a sneaky long climb that really made us work to reach the top. Once we got back to the coast, we landed on a bike path that led us out of town for a few miles. We hooked back onto the 1, following busy roads for a few miles. Thankfully there was a wide shoulder giving us space. At one point, we were forced to leave the 1 and take a 3 mile roundabout way, as there's a short section where bikes aren't allowed.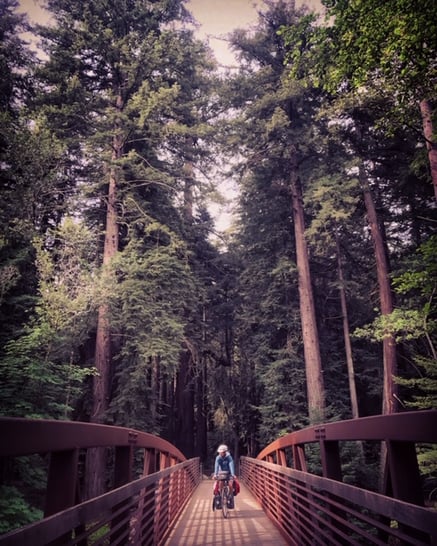 We followed bike route signs along the coast and then hopped on a bike path that took us all the way into Santa Cruz. We took a day off here to avoid a few passing storms and planned out the last 84 miles to SF.
We moved north out of town and caught the Soquel San Jose road up and over the mountain. This was a pretty decent climb and was great since there was very little traffic for us to contend with. Once we descended we made the mistake of hopping on the 17 instead of hugging the mountain bike trails around Lexington Hills. For two miles, we rode the insane highway, with cars whizzing past us at 80 MPH. It was terrifying and then absolute madness when the shoulder disappeared.
Disheveled by the experience, we luckily found a fence that we were able to hop (with some effort because... bikes) to join the trails parallel to the 17. Nothing like a bit of fence hopping in the afternoon :)
The rest of our afternoon was spent maneuvering city roads on the outskirts of Mountain View, Palo Alto, and San Mateo. There was a good amount of bobbing and weaving down side roads, but this stretch was flat and full of safe bike lanes. Despite rush hour traffic, we made good time entering South San Francisco.
Up and over our last climb, we followed signs for bike route 15 along the eastern edge of the city. It was fun flying down the hilly streets of SF, and we were super pumped for the prospect of some well earned rest.
And then, we reached Pete and Colby's apartment, who had cold beers and food ready for these weary travelers.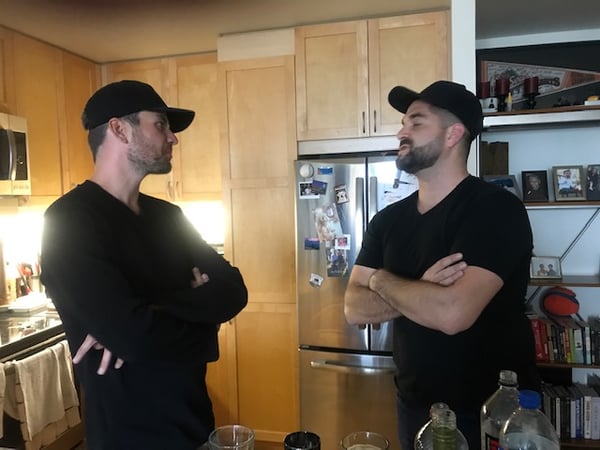 For more stories and recaps from our time on the road in America, check out this page: Cycling Across the US.
Topics: Camping, Maps and Routes, USA